Confections & candy flow pack wrapping line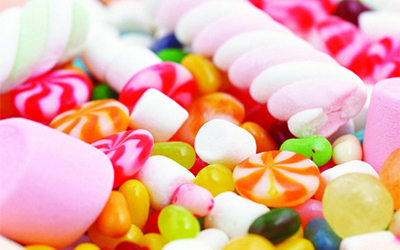 Wenzhou Ruida Machinery manufactures high efficiency horizontal flow wrappers and automatic feeding systems for confections and candy products including candy bars, candy canes, chocolates, licorice, mints, and more.
Why choose Wenzhou Ruida Machinery to feed and package confections & candy?
The horizontal flow packaging equipment customized by our company is perfectly suited for the packaging of various hard candies, malleable soft candies and candy with different types of texture and hardness.
We can provide different packing machines with equipped vibrating bowl feeders or automatic bowl feeders to achieve different feeding methods for diverse candy types. The integrity of packaging process and high production efficiency are guaranteed.
We provide horizontal flow packing machines with multiple rotary cutting heads to ensure high production efficiency. The cutting process and packaging process are carried out simultaneously. Additionally, the cutting head number can be set in the range of 3-6 according to your individual productivity demands.
Wenzhou Ruida Machinery manufactures feeding and packaging machinery for confectionery and candy products including:
Hard candy
Toffee
Nougat
Sesame sugar
Lollipops
Chocolate
Marshmallow
Wenzhou Ruida Machinery Co. is a trustworthy source of horizontal flow wrappers and automatic packaging equipment founded in 1989. We apply our decades of accumulated production experience to satisfy the needs of our thousands of customers in various industries. We have provided packaging equipment for companies involved in the production of food, pharmaceuticals, hardware, and so on. Our products are sold throughout 31 provinces and cities in China and exported to other countries like Korea, America, Russia, as well as regions like Southeast Asia and the Middle East.