Tissues packaging flow wrapping line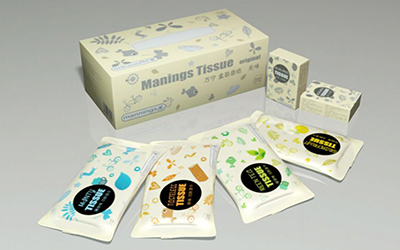 Wenzhou Ruida Machinery manufactures high-quality horizontal flow wrappers and automatic feeding systems for tissue products including napkin, wet wipes, diapers, and more.
Why choose Wenzhou Ruida Machinery to package tissue products?
Whether packing wet or dry wipes, we have matching packaging methods which are a bottom reel version and top reel version. The bottom reel version packaging machine is suitable for packaging goods containing liquid.
The horizontal flow wrappers can be used to package single or multiple pieces of tissues.
We adopt a wind tunnel device to realize the fixation of tissues in the packaging process. Therefore, the tissues will not be contaminated due to making contact with the ground.
Wenzhou Ruida Machinery manufactures packaging machinery for tissue products such as:
Napkin
Wet wipes
Baby diapers
Sanitary napkins
Makeup cotton
Wenzhou Ruida Machinery Co. is a trustworthy source of horizontal flow wrappers and automatic packaging equipment founded in 1989. We apply our decades of accumulated production experience to satisfy the needs of our thousands of customers in various industries. We have provided packaging equipment for companies involved in the production of food, pharmaceuticals, hardware, and so on. Our products are sold throughout 31 provinces and cities in China and exported to other countries like Korea, America, Russia, as well as regions like Southeast Asia and the Middle East.